As devoted parents, we want to get the best things we can for our children, especially on practical items like umbrellas that protect children from the rain and snow. But how many times, as a parent, have you gone out in the rain only to find that your trusty umbrella breaks as soon as you open it? If I had a dollar for every time that that happened… I'd have at least 10 dollars.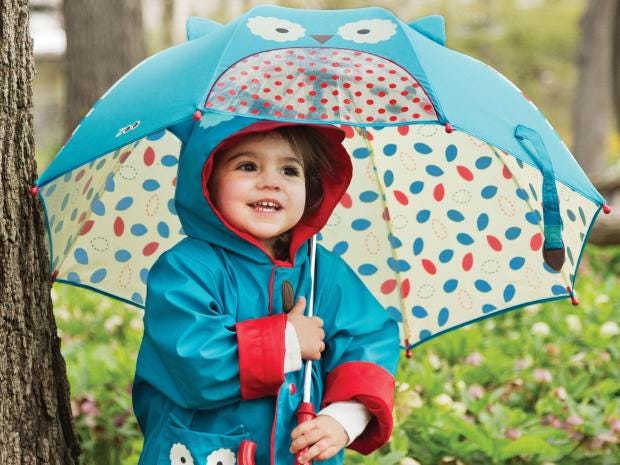 So let's save our kids by giving them the best and most durable umbrellas we can find them. In this review, then. we'll look at our top picks for kids umbrellas.
Considerations when choosing a child's umbrella
Don't let the looks fool you – Your son or daughter may go wild when they see the picture of that umbrella fashioned after their favorite Disney character, but if it is cheaply made or fragile it is not going to be of any use to you. Also, broken umbrellas trend to have sticky out bits and sharp edges, which is definitely not something we want anywhere near our precious little ones.
No pointy bits or sharp edges – Although you might find them on some adult umbrellas, we don't want spike or anything like that for our kids. We want to give them a tool that keeps them dry and warm, not a weapon they can injure themselves or others with. Make sure your children's umbrella has rounded tips of rubber or plastic.
A good solid mechanism – Have a close look at the umbrella mechanism. Whether it is automatic or manual closing, it should be smooth and gentle, and its parts should be solid and robust. Also, please be aware that your child should take extra special care with an umbrella that opens and closes a button press; it is very easy for little hands and tiny finger to get caught in these if they are not careful.
Smooth handles – whether they are plastic or wooden, we want a nice smooth handle on our child's umbrella. Children have soft and delicate hands, and we don't want rough edges cutting them or giving them splinters when they use it.
Affordable yet not too expensive – You need to find a balance in choosing the right umbrella for your kid. On the one hand, you don't want a cheap one that is going to fall to pieces on the way to school or in the playground. However, it is not worth paying a lot of money for an umbrella that they will outgrow in a few years. It's also easy for children to put them down or forget them somewhere, so it shouldn't be too hard to replace one.
It might sound like a lot of things to remember for a simple thing like a child's umbrella, but if you get a good one that will last a long time, your kids will be very thankful on rainy days. Plus, especially for kids with long hair, they can get to school in the rain without catching a cold OR ruin their fantastic new haircut.
Top 5 childrens umbrellas
Skip Hop Kid and Toddler Umbrella
Whether they are rushing to the bus stop or splashing around in puddles and having a great time, your toddler will love venturing out into the rain carrying their very own umbrella.
This cool kids brolly has an innovative windowpane that makes it easy for children to see in crowded places while protecting little faces from wind and water. With a child-sized handle and kid-friendly release, it's easy for little fingers to safely open and close. This brolly also coordinates with a matching raincoat from the manufacturer, so its perfect if your child wants to coordinate their outfit. Available in a range of colors and animal designs. The pink set will a great umbrella for a little girl.
Peek-a-boo window and kid friendly release

Standard child-sized plastic handle

3-cold ears and motif closure strap

Bpa-free and phthalate-free
Pop Up Umbrella for Children
Brilliant for expressive little children, these cool umbrellas for kids come in all kinds of animal shapes and designs, from cute butterflies and frogs to scary sharks and even a pirate! These are specially designed for kids and are easy to open and close. There are no buttons, so you won't have to worry about them accidentally getting their fingers trapped
100% Nylon

Hand Wash

23.62″ high

27.56″ wide

Easy open and close – no buttons to pinch little fingers

Wrap around Velcro closure for storage
Totes Clear Umbrella for Children
Help your kid keep dry and healthy in the wet weather with this awesome unisex umbrella. The clear canopy lets the little ones see where they are going easily, so they can avoid any bumps or knocks that they might not otherwise notice, especially on crowded streets, buses and subways.
vinyl

Imported

Extended, dome-shaped canopy keeps your little one bone dry

Easy-grip curved plastic handle perfect for small hands

Child-safe scratch-free ball protects umbrella spokes

25x2x25
Colorful Kids Umbrella
We all know just how much children like bright and colorful things, so keep them from the sadness of the rain and drizzle with these cool children's umbrellas. Available in a full range of cool kids designs, these umbrellas are sturdy, durable, and easy to open and close, and with no buttons, you don't have to worry about tiny hands getting trapped or snapped.
100% Polyester

Imported

Hand Wash

Easy open and close – no buttons to pinch little fingers

Measures approx. 22 long and 27 diameters (when open)

Wrap around Velcro closure for storage
Rainstoppers Child Umbrella
3 year old children will absolutely love this stylish umbrella, as it is big enough for them to use, but they won't grow out of it or a few more years. It is very comfortable to hold, and easy to open and close.
This also comes available in a staggering number of different colorful designs, with everything from flowers, animals, cowboys, and sports, so you'll surely find one that fits your child's sense of style and interests.
Manual Open

Metal Shaft, Ribs, and Round Plastic Tips

Matching Plastic Hook Handle

190T Polyester Fabric

Safety Tested